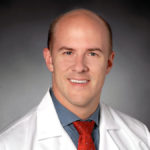 Ben Walter, MD
Associate Professor of Neurology and Penni and Stephen Weinberg Master Clinician in Brain Health
Case Western Reserve University - School of Medicine
Director, Movement Disorders Division
University Hospitals - Case Medical Center
Medical Director, Deep Brain Stimulation (DBS) Program, Movement Disorders Center
University Hospitals - Case Medical Center
Dr. Walter is the principle clinical investigator for the UH/Case site of BrainGate2. His research is focused in medical device clinical trials and understanding sensorimotor integration using functional MRI in health and disease particularly in conditions of movement disorders and paralysis. He has been a co-investigator or principal investigator on numerous clinical trials and his lab has been funded by multiple sources including a NIH K23 awarded to Dr. Walter for fMRI studies of DBS in patients with dystonia.
He is a board certified neurologist and fellowship trained movement disorders specialist at University Hospitals and Case Western Reserve University. In his clinical practice he cares for patients with Parkinson's disease, Essential Tremor and Dystonia as well as other movement disorders. He graduated Summa Cum Laude from Emory University with a B.S. in Biology and received his medical degree from MCP-Hahnemann School of Medicine. He completed an internship in Internal Medicine and residency in Neurology at Emory University. He subsequently completed a fellowship in Movement disorders with emphasis on intraoperative mapping and Deep Brain Stimulation at Emory University.
He has been practicing Neurology in Cleveland, OH since May, 2008.