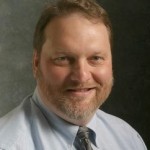 Bob Kirsch, PhD
Chairman, Biomedical Engineering and Professor of Engineering
Case Western Reserve University
Director, FES Center, Rehabilitation R&D Service
Louis Stokes Cleveland VA Medical Center
Dr. Kirsch's primary research area has been the restoration of arm function in individuals with paralysis resulting from cervical spinal cord injury, primarily through the use of FNS. He has four main areas of interest:
Using a model of the shoulder adapted to reflect cervical spinal cord injuries to evaluate potential interventions and control strategies.
Determining the three dimensional stiffness properties of the arm.
Using EMG from voluntary muscles in C5-C6 level injury as control signal for shoulder/elbow prosthesis.
Restoring arm movements in individuals with high cervical spinal cord injury.