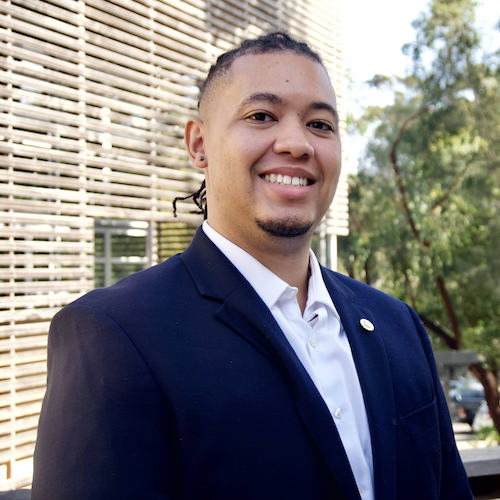 Daril E. Brown II, PhD
Postdoctoral Scholar
University of California, Davis
Dr. Daril Brown II is a postdoctoral fellow in the Neuroprosthetics Lab at the University of California, Davis. He joined the BrainGate team in 2022. His research focuses on developing next-generation communication devices by studying brain activity during conversational speech. He is developing and deploying novel interactive experimental paradigms to understand the brain's "internal autocorrect system". He aims to help develop therapeutic speech devices that are able to leverage this "autocorrect signal" to detect how well the technology is working and automatically update its own decoding algorithms.
Dr. Brown earned his Ph.D. in Electrical Engineering, specializing in Medical Devices and Systems, from the University of California, San Diego, where he was a dual advisee of Prof. Vikash Gilja and Prof. Tim Gentner. His research sought to establish songbirds as a novel animal model for the development of a human speech prosthesis. Prior to his Ph.D., Dr. Brown earned his Bachelor's in Mechanical Engineering from Howard University, and a master's in Bioengineering at UC San Diego.
Daril is currently both a Schmidt Science Fellow and a ASEE eFellow. He is also the recipient of numerous awards, including the NSF Graduate Research Fellowship, the UC-HBCU Fellowship, a 2022 Siebel Scholar for Bioengineering, a Bouchet Graduate Honor Society Inductee, and a Jackie Robinson Scholar. Dr. Brown is a strong advocate for science literacy and accessibility and is committed to advancing translational neurotechnology.